Comfort Knit Sneaker
The comfy sneakers make your feet feel good
DETAILS & DESCRIPTION (Comfort Knit Sneaker)
Our OG sneaker is made from 100% post-consumer recycled plastic bottles and other natural materials. With a blend of natural and recycled rubber our greenksole® outsole is lightweight, durable, grippy and designed for multi-environment traction.
Between hanging with friends downtown or catching a late-night movie, show up in comfort & style with your choice of 3 nature-inspired shades. More comfortable than ever before, our new fit sculpts to your feet, breathes as you move, and brings a whole new meaning to a low-carbon footprint.

Core Features

• Our knit upper is made out of 100% PCR plastic using innovative 3D knitting technology.

• Pigmented using Dope Dye technology to reduce water waste without sacrificing color payoff.

• Our deep heel cup design and all-day arch support insole is made from corn starch and recycled foam and is engineered to help your foot cushion and breathe.

• Made with a blend of natural and recycled rubber our greenksole® is lightweight, durable, and designed for multi-environment traction. And it's green, obviously.

• Our signature KrushTM velvet laces are made from 1 recycled PCR plastic bottle.

• Ultra wearable with an easy slip thanks to the K-Zipper

• 100% recyclable

• Shipped in FSC certified recycled cardboard.
Shipping & Returns

Free shipping for orders above $70 and free return for all orders.

$16 shipping fee for all international orders.

Standard Shipping: 3-5 Business days.

$16 shipping fee for recipients in Alaska, Hawaii, Puerto Rico, U.S. Virgin Island and Guam 

*To inquire about shipments please contact Customer Service at contact@kokolu.eco
Dimensions

| | | | | | | |
| --- | --- | --- | --- | --- | --- | --- |
| US | 6 | 7 | 8 | 9 | 10 | 11 |
| EUR | 36 | 37 | 38 | 39.5 | 40.5 | 42 |
| UK | 3.5 | 4.5 | 5.5 | 6.5 | 7.5 | 8.5 |
| In CM | 22.8 | 23.7 | 24.5 | 25.3 | 26.2 | 27 |
Care Instructions

1. Pull out the insoles and laces, you can machine wash them. Do Not use bleach, Do Not dry clean. Recommend hand-wash.
2. Use soft brush, gently and carefully wash the upper surface with mild detergent and cold water, air dry in shade.
3. Gently brush the outsole with mild detergent and cold water.
4. Take good care of the gold thread in the shoes.
5. Relax, cleaning KOKOLU shoes is an easy job.
Share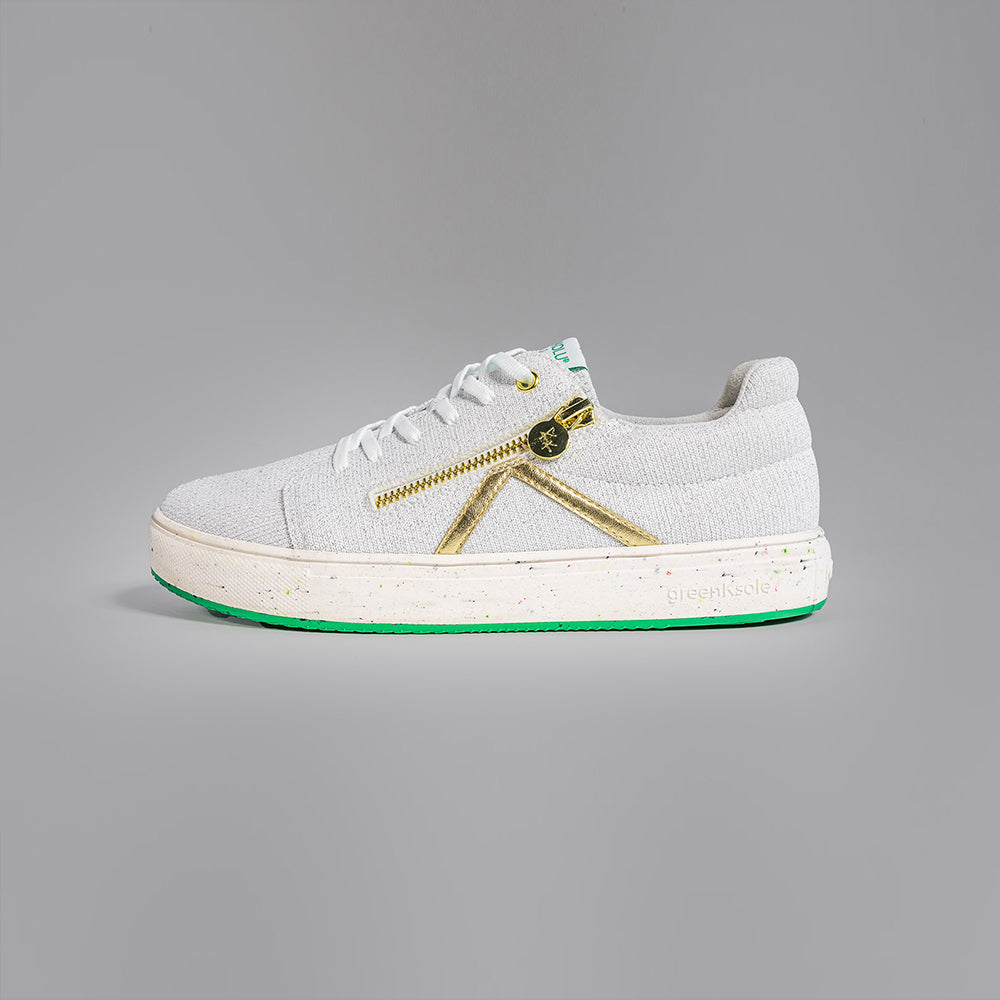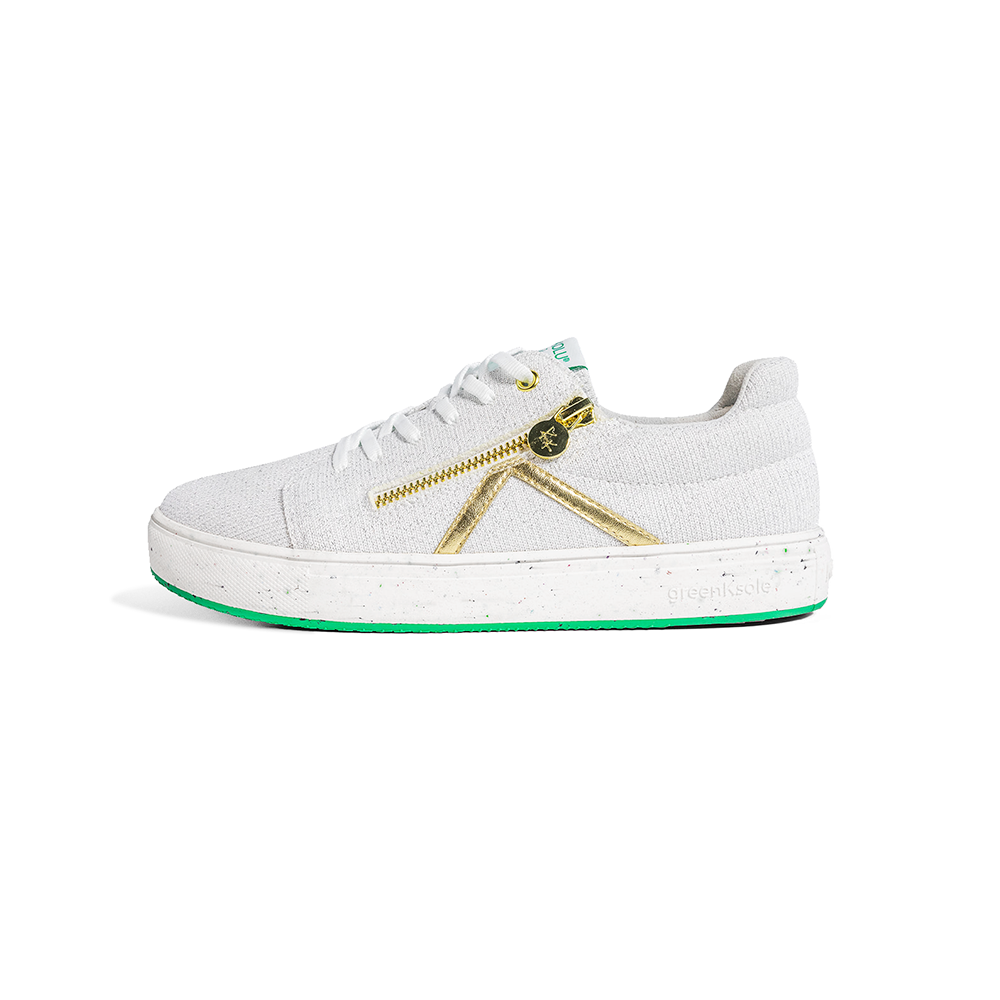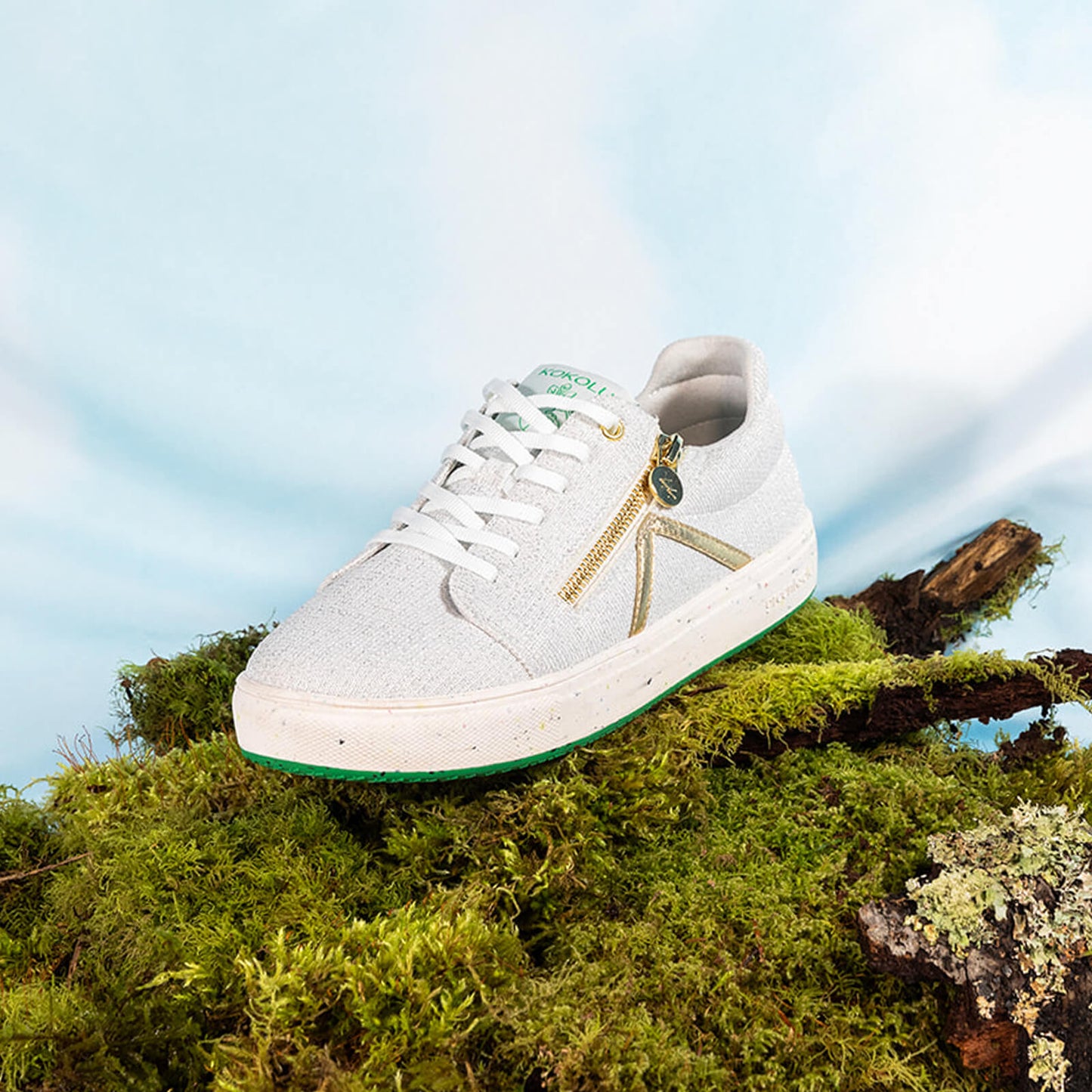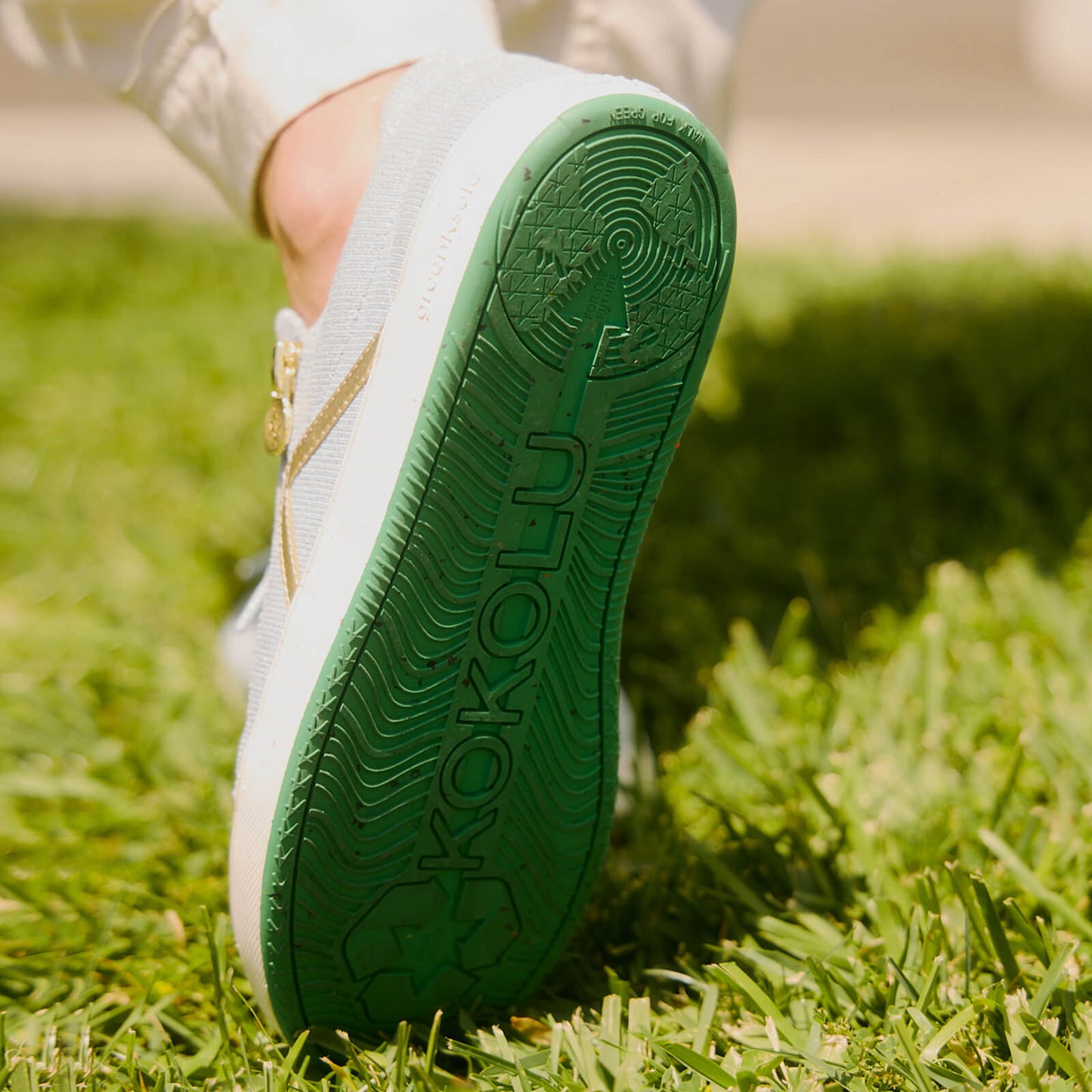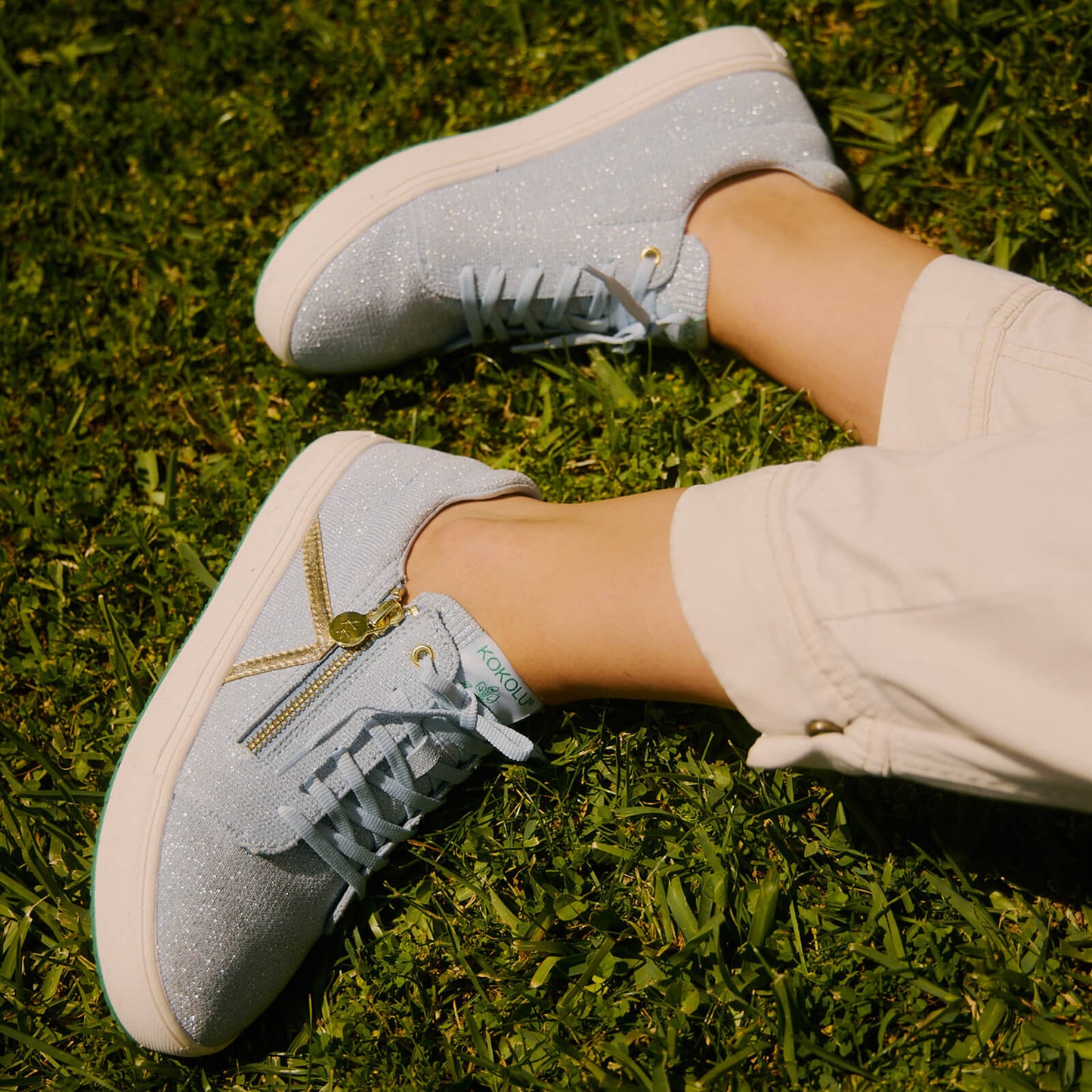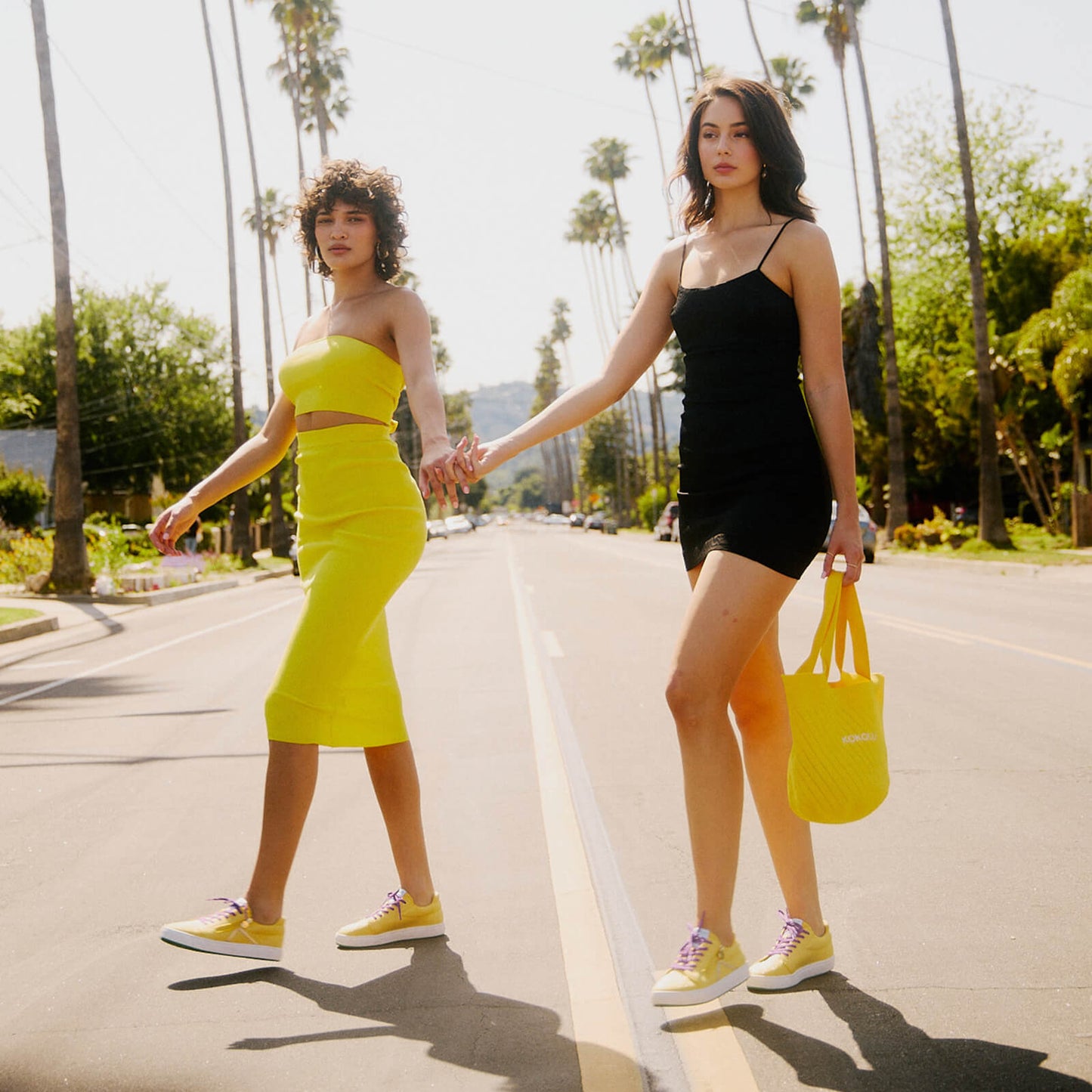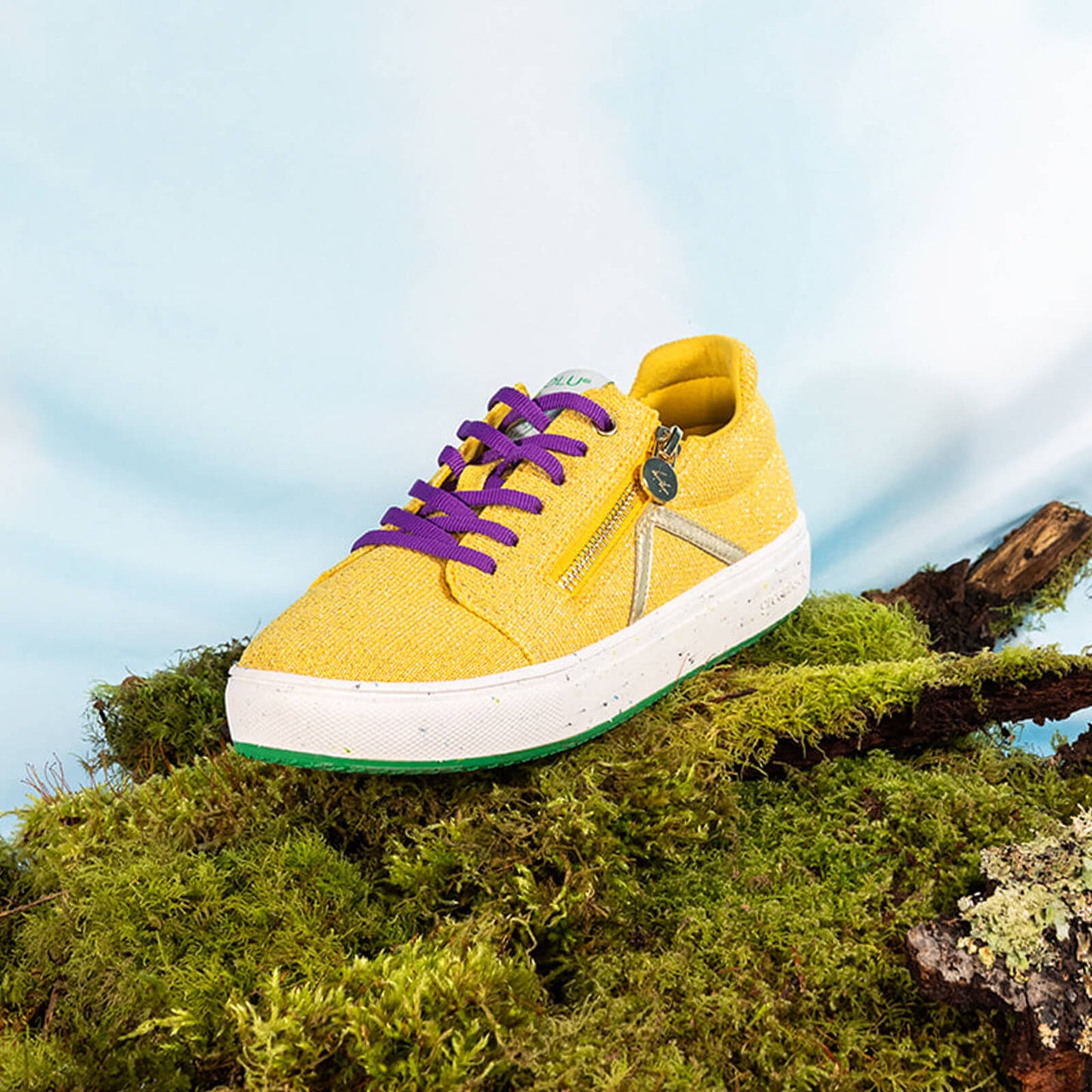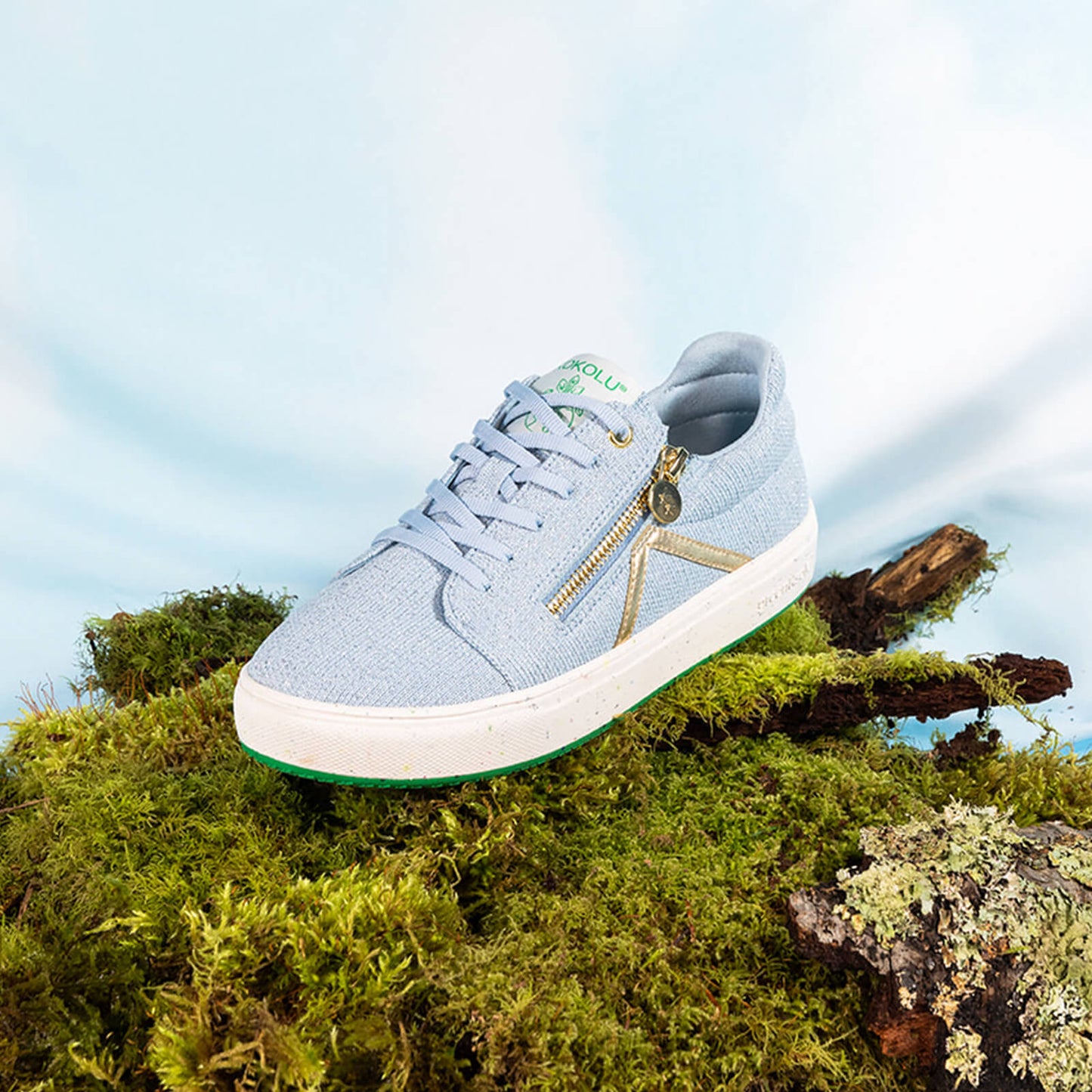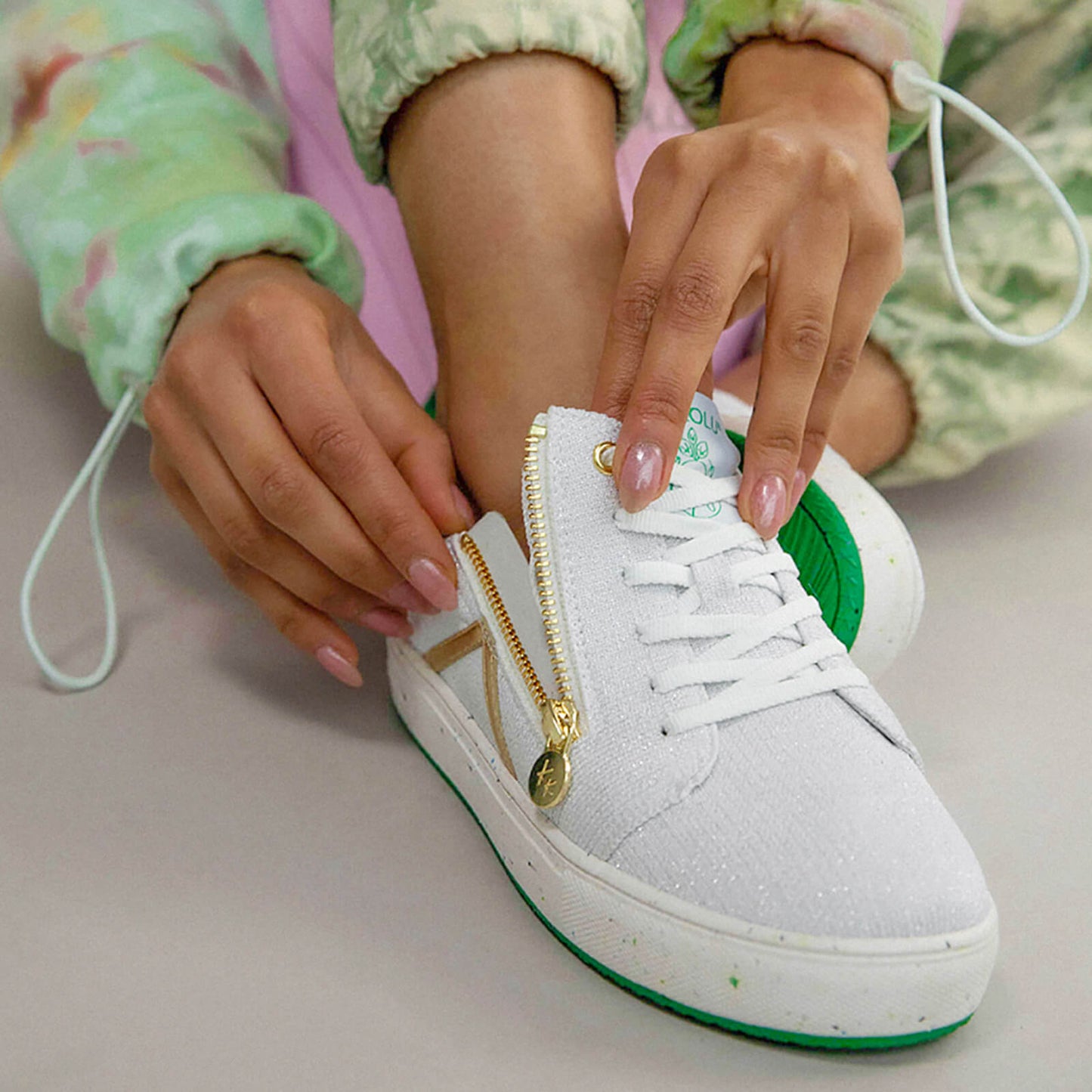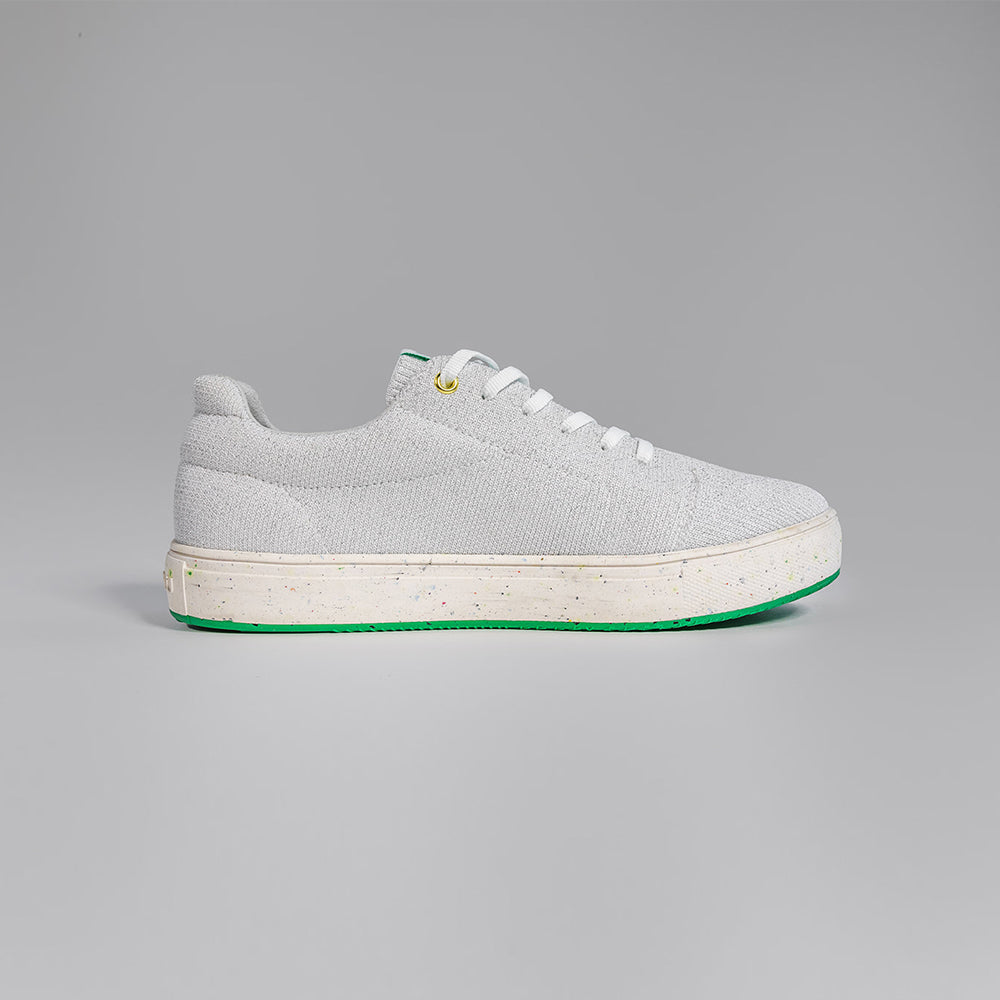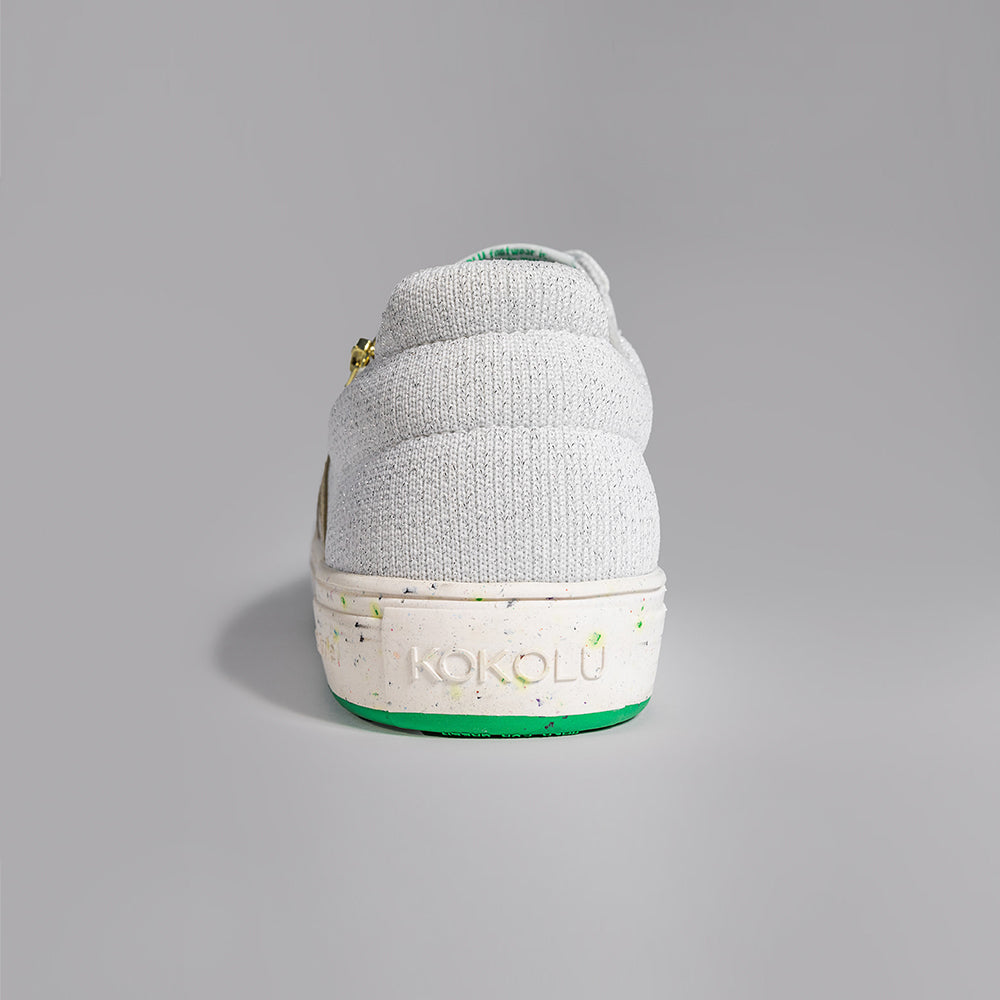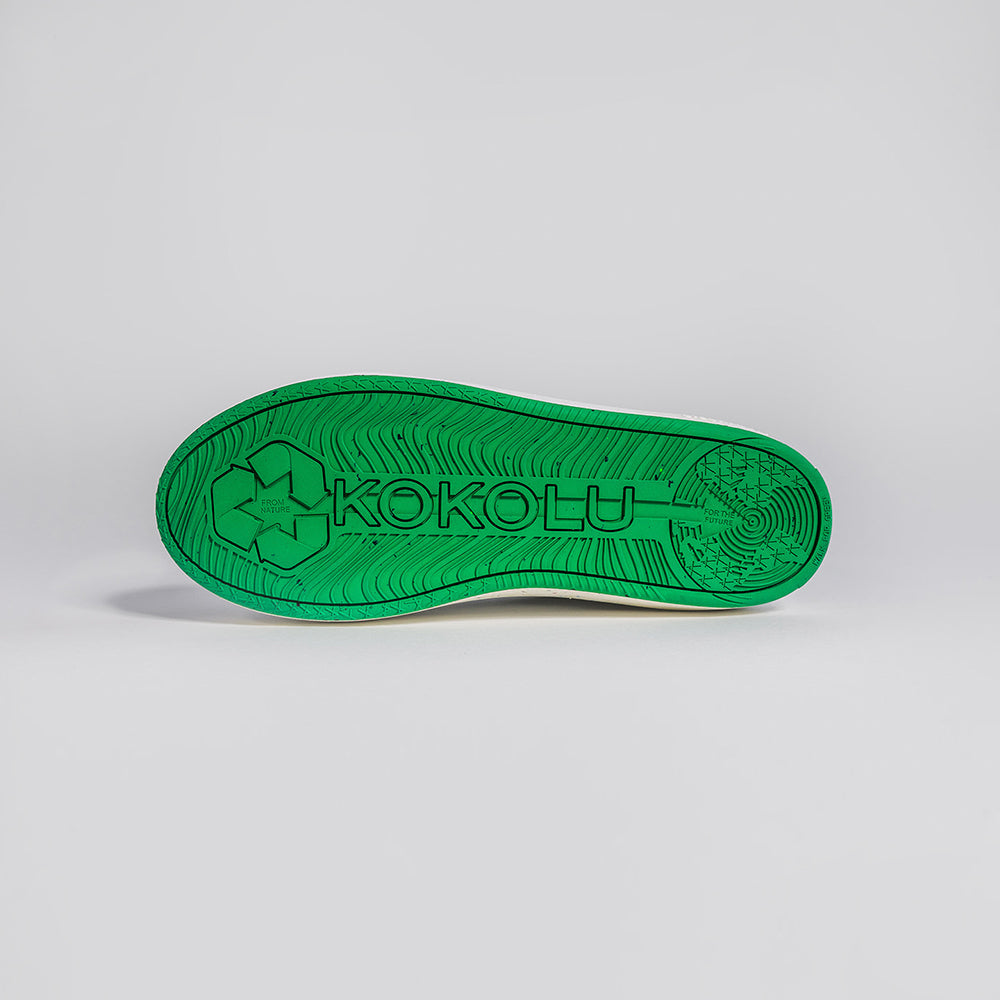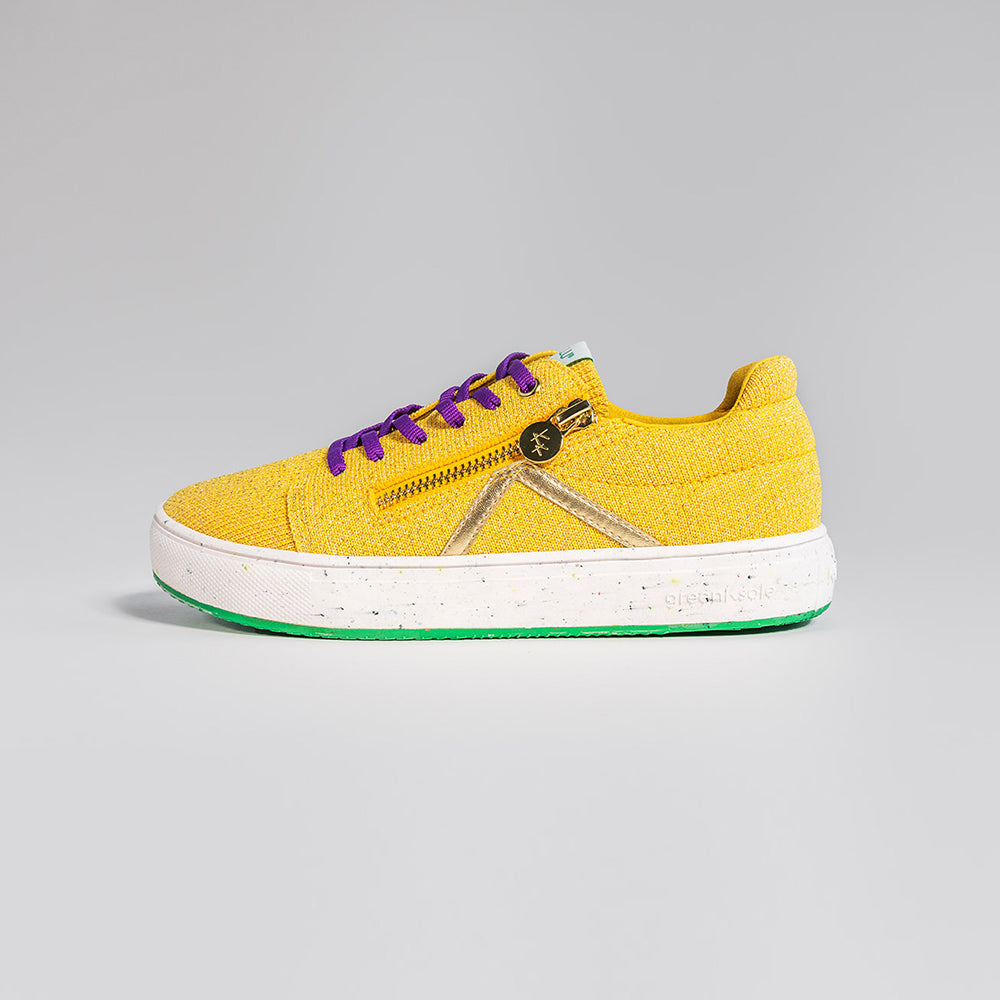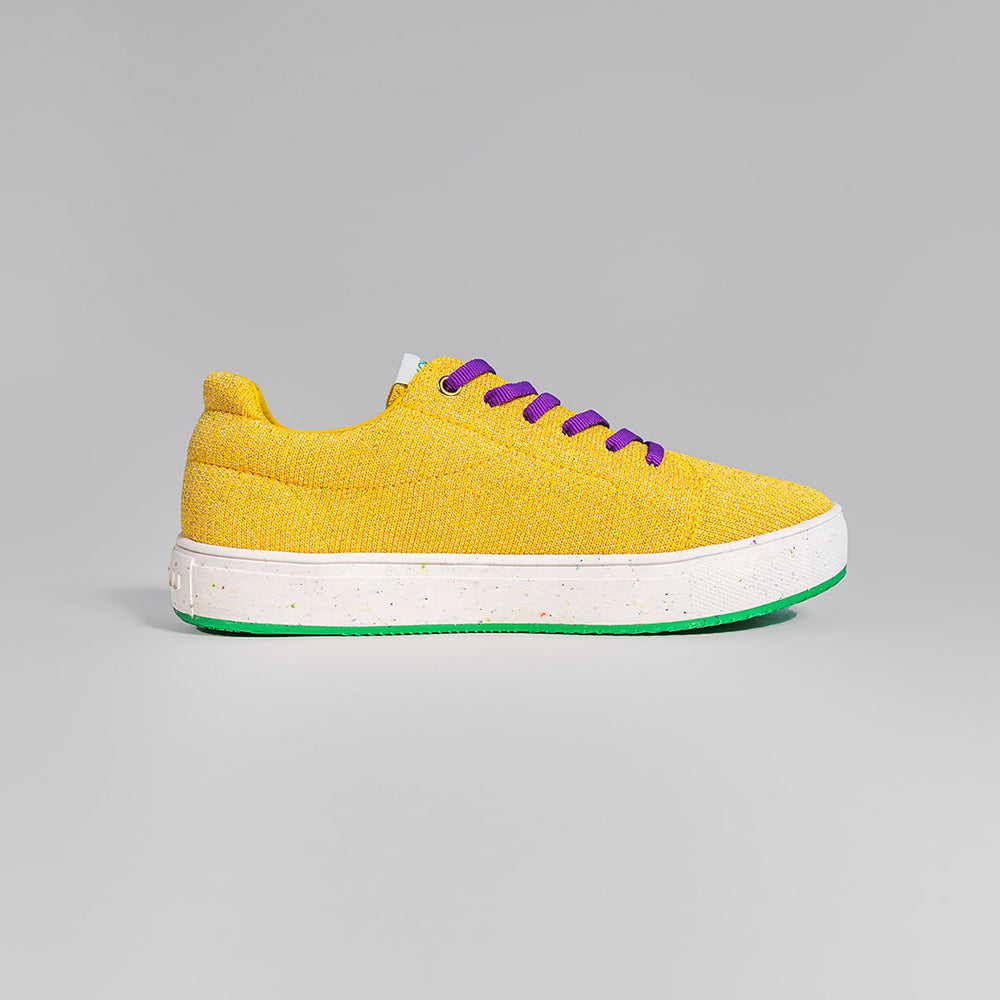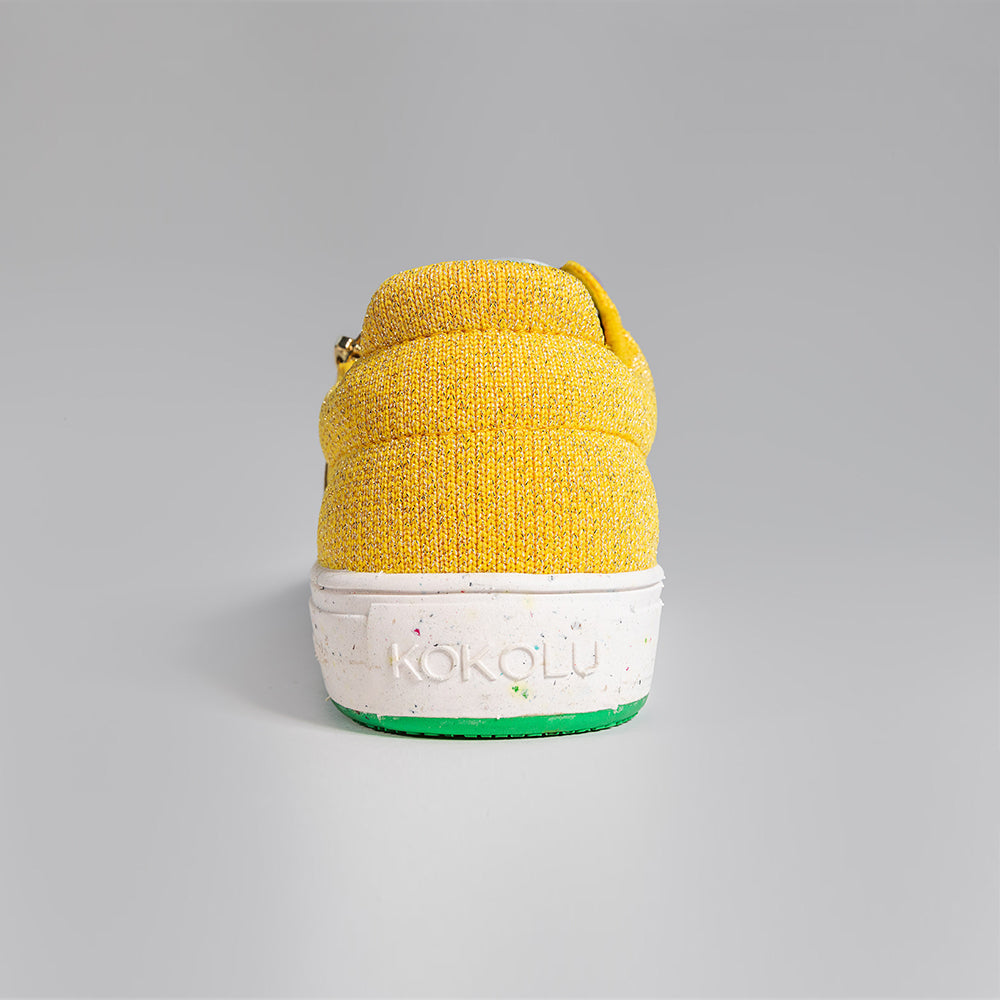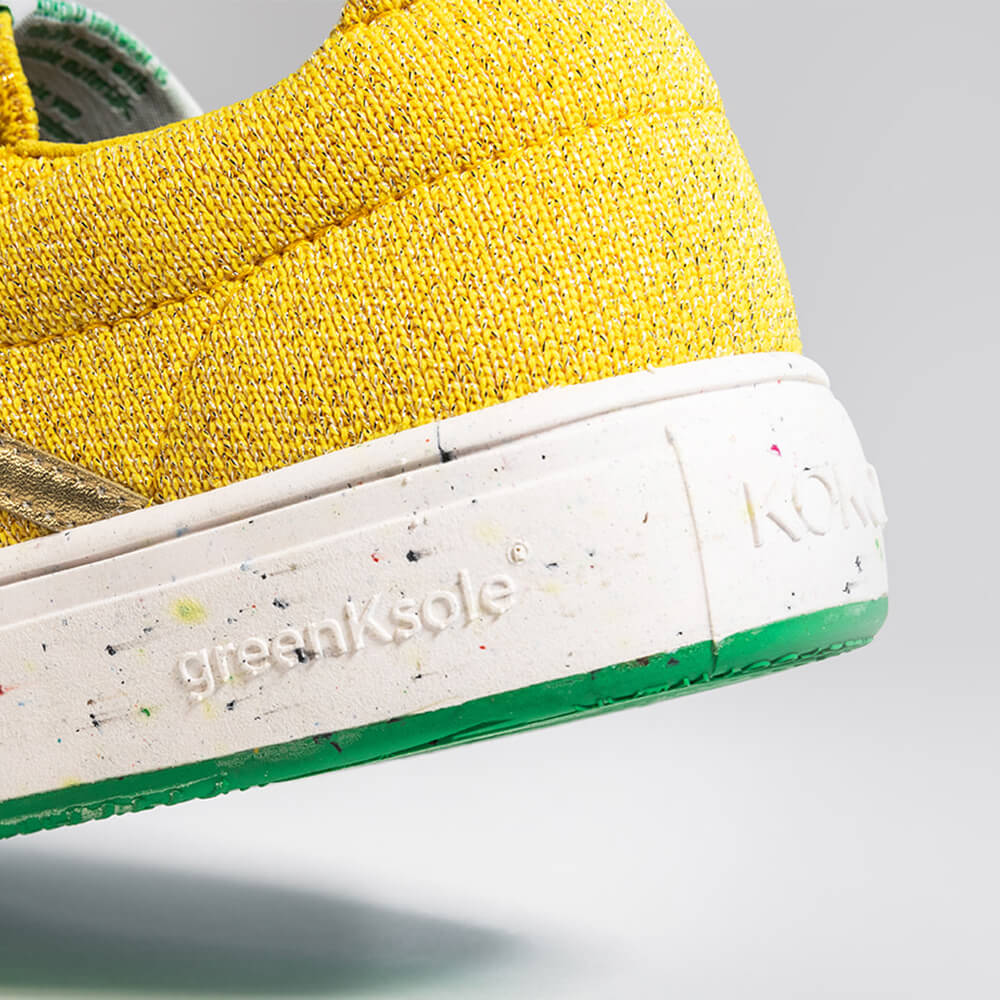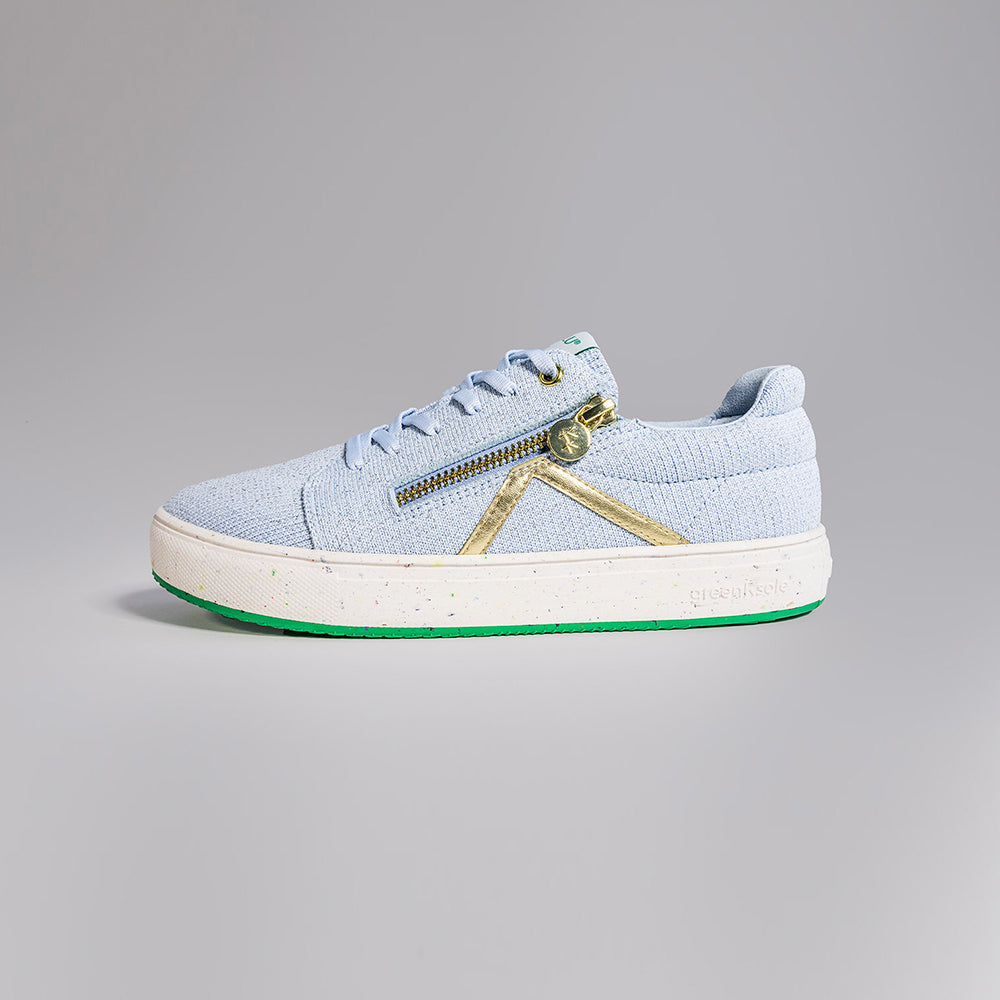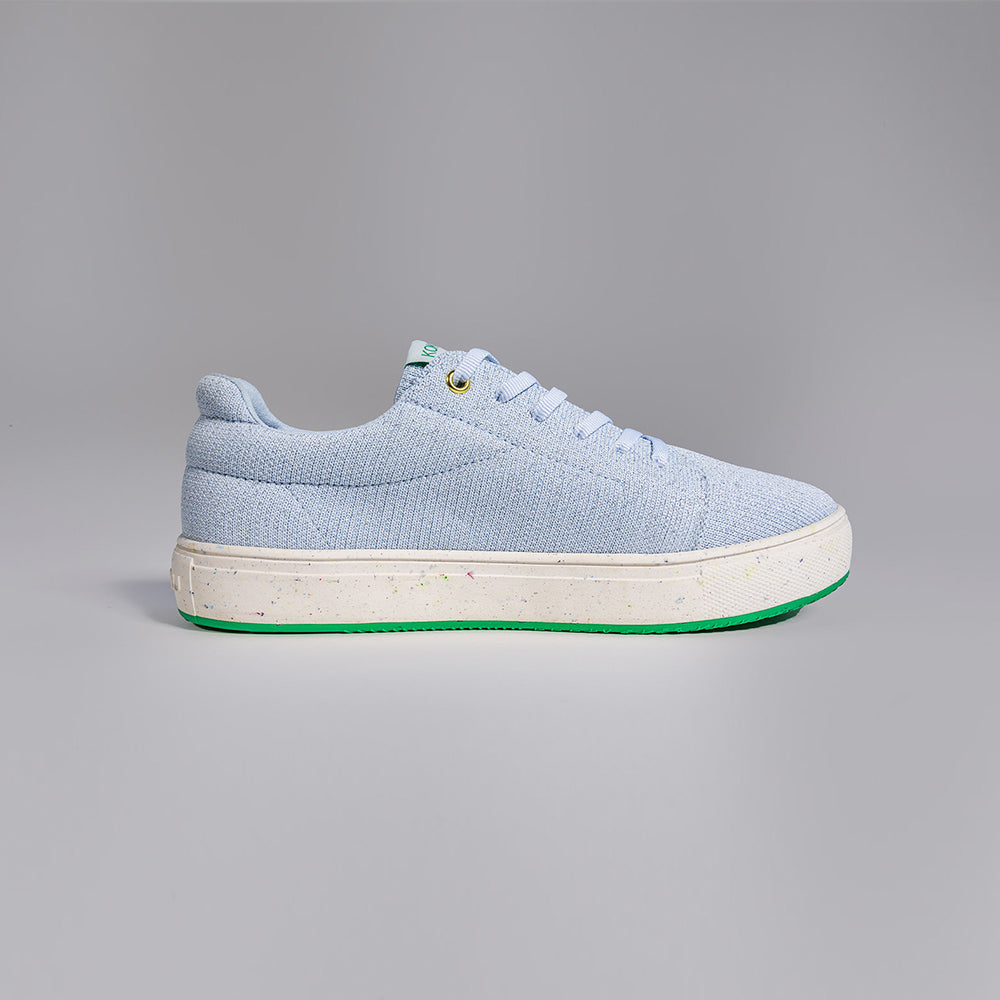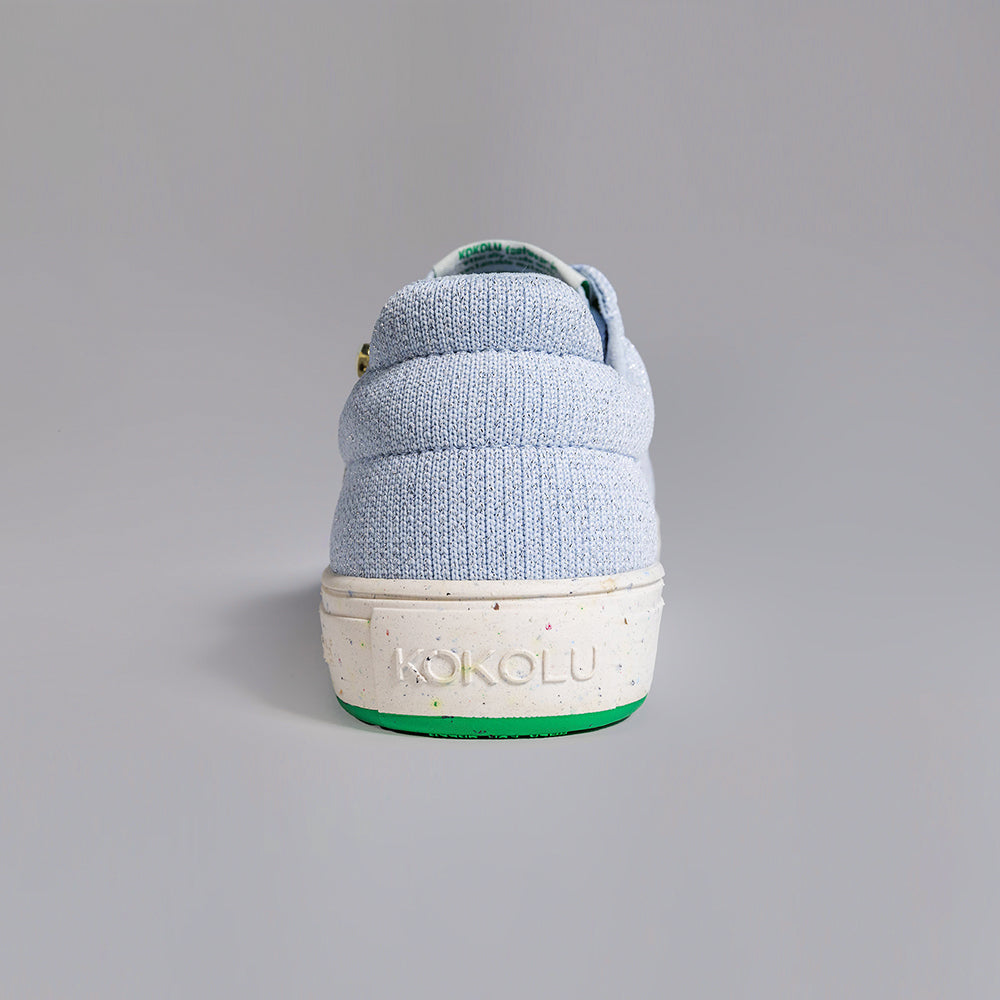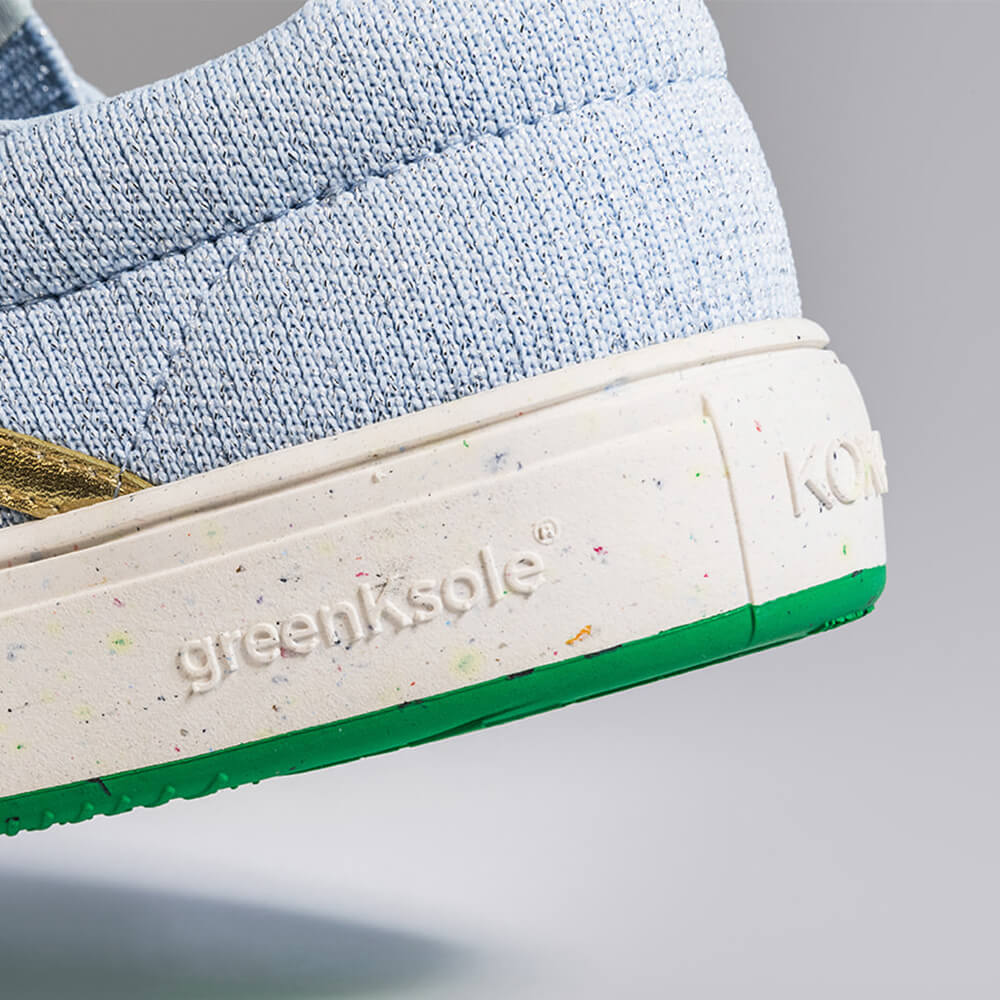 Comfort Knit Sneakers - White
Leading a sustainable lifestyle while maintaining your sense of fashion can be challenging, especially when it comes to footwear. Stylish, comfortable shoes are a wardrobe must, but eco-friendly fashion is often equally crucial in today's climate.
Thankfully, Comfort Knit Sneakers from KOKOLU make it so that you don't need to compromise your sense of style for the environment.
Made With Sustainable Materials and Practices
You might wonder how a shoe can be environmentally friendly. Whether it's a slip-on loafer, a lace-up high-top sneaker, or an athletic running shoe, you probably assume that a new pair of shoes has a high carbon footprint; however, that's not always the case.
Sustainable shoes are a real thing, and now you can literally step into sustainability with a pair of white KOKOLU Comfort Knit Sneakers! These shoes are made from recycled water bottles and a blend of other recycled materials.
At KOKOLU, we use eco-friendly techniques to produce sustainable footwear while minimizing pollution and excess waste and using sustainable resources. Our Comfort Knit Sustainable Sneakers are made entirely out of natural materials and recycled materials, including foam insoles and recycled/natural rubber outsoles, instead of the synthetic, toxic fibers used by some fashion brands.
You will look stylish and feel zero guilt wearing shoes made from eco-friendly materials. Our shoe-making process is sustainable at every level — even down to the dyeing process! We utilize a sustainable technique called dope dyeing, which allows us to make products with bright colors from classic white to vibrant yellow while reducing our water waste and environmental impact. With colorful, low-top, eco-friendly sneakers like these, it's easy to find a pair to match your style.
Even when your eco-friendly shoes come to the end of their life cycle, they can still be eco-friendly as they are 100% recyclable shoes. Instead of wasting away in a landfill and increasing emissions, your low-impact shoes will find a new purpose once recycled or upcycled, making them carbon neutral.
KOKOLU: A Sustainable Shoe Brand for Any Occasion
KOKOLU White Comfort Knit Sneakers are perfect for many occasions. Going for a walk with friends? Need a cute but casual pair of sneakers for a coffee date? Want a comfortable pair of shoes to wear around the office? Look no further than the KOKOLU Comfort Knit Sneaker.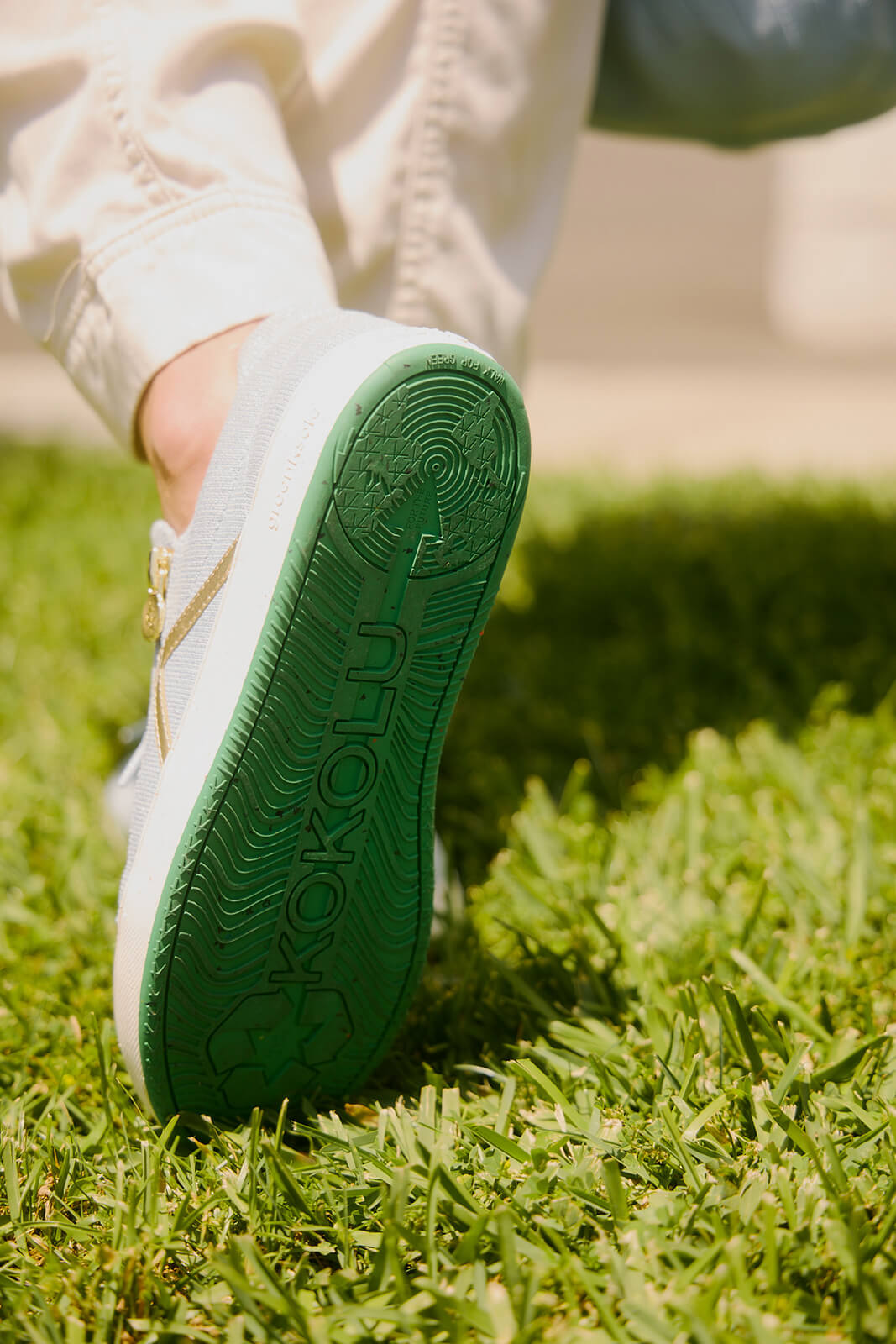 COMFORT CONSCIOUS TECHNOLOGY
Doing good should feel good
Made from corn starch and recycled foam, our custom insoles are antimicrobial and superb at odor control. Because life is no fun with smelly, swollen feet.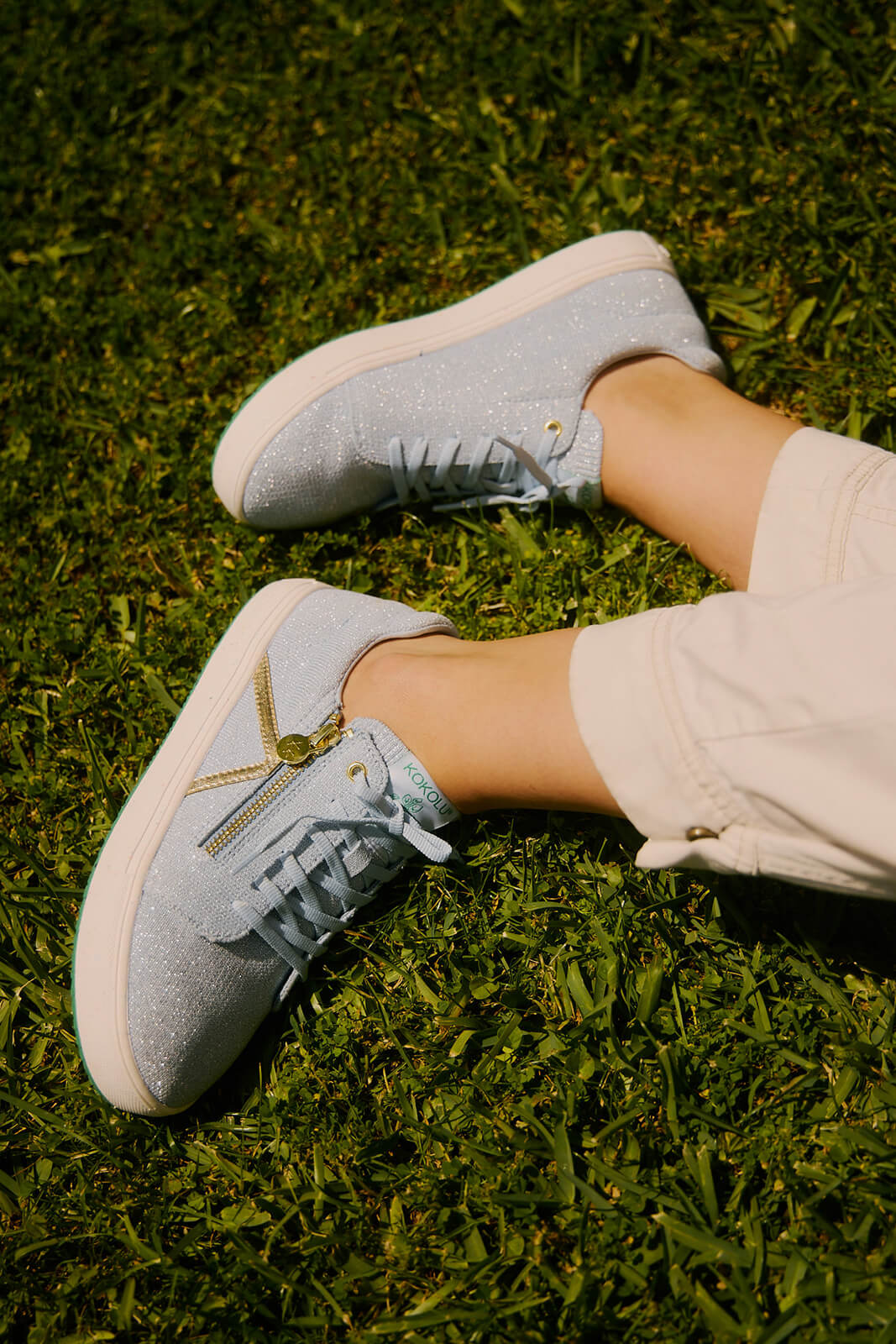 100% ECO-FRIENDLY MATERIALS
No shoe is worth harming the environment
Using the most advanced technology in 3D knitting and Dope Dying, we can reduce our carbon footprint and get bold, pigmented color all without harming the planet.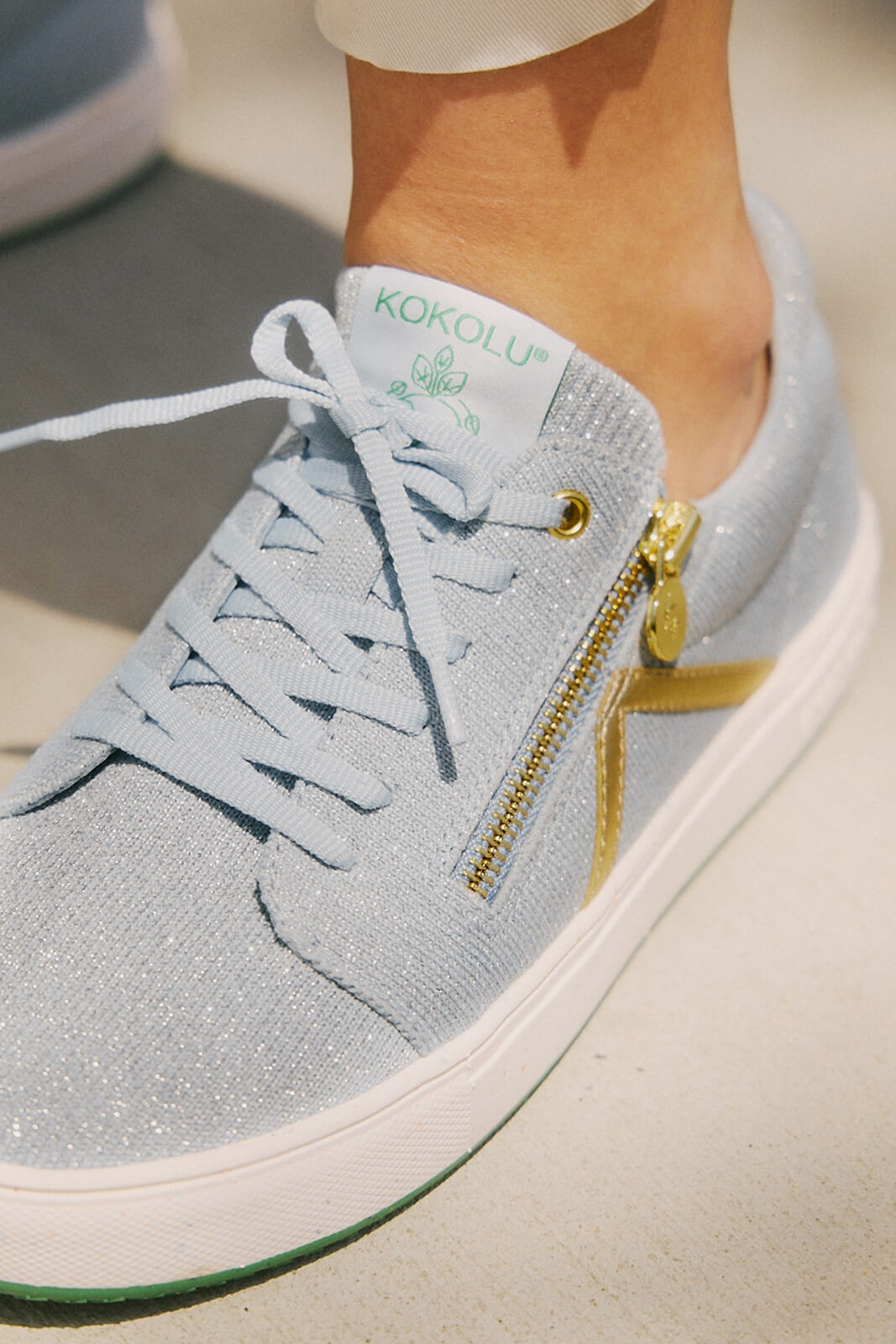 K-ZIPPER
Easy on, easy off
Have you ever wondered how much life you miss while you are on the ground tying your shoes? Not anymore.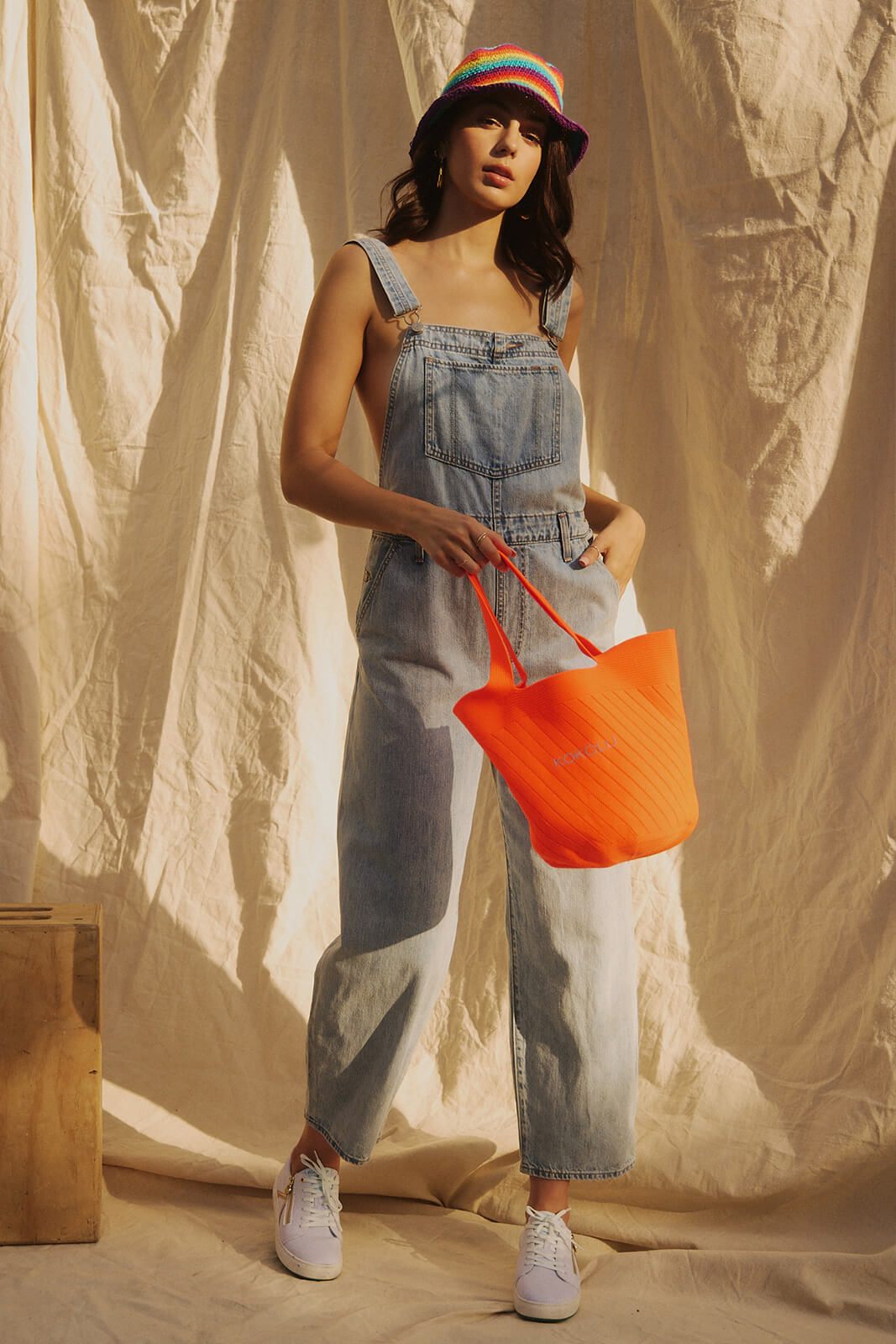 FSC CERTIFIED RECYCLED CARDBOARD PACKAGING
Green all the way home
Making sure that our sustainability promises hit home, we only use 100% FSC certified recycled cardboard in our packaging. Throw your packaging into the recycle bin or composter so that it can continue its life cycle. Just don't forget to take your shoes out first!